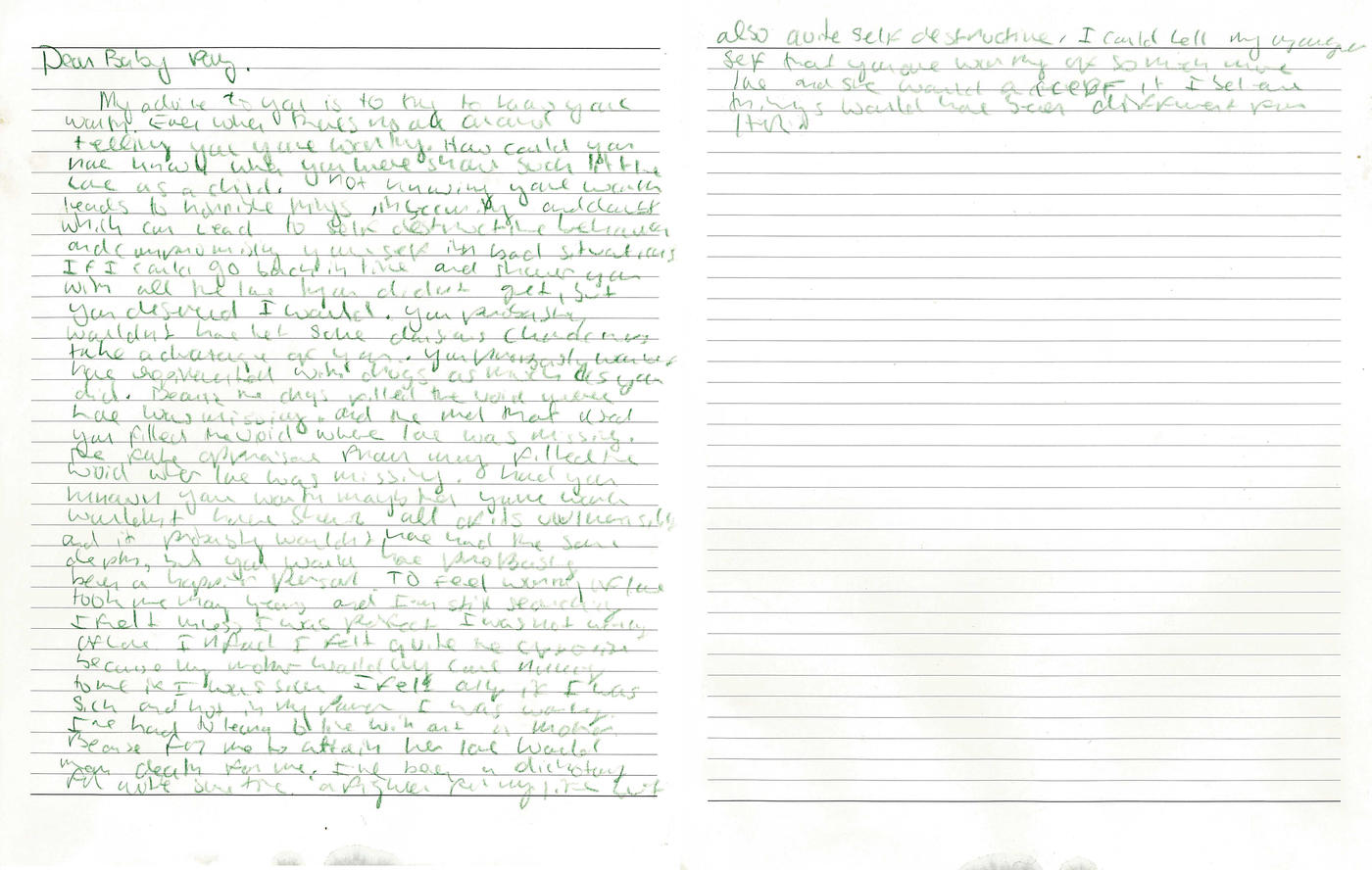 DEAR BABY PAZ,

MY ADVICE TO YOU IS TO KNOW YOUR WORTH. EVEN WHEN THERE'S NO ONE AROUND TELLING YOU YOU'RE WORTHY. HOW COULD YOU HAVE KNOWN WHEN YOU WERE SHOWN SUCH LITTLE LOVE AS A CHILD? NOT KNOWING YOUR WORTH LEADS TO HORRIBLE THINGS AND INSECURITY WHICH CAN LEAD TO SELF DESTRUCTIVE BEHAVIOR AND COMPROMISING YOURSELF IN BAD SITUATIONS.

IF I COULD GO BACK IN TIME AND SHOWER YOU WITH ALL THE LOVE YOU DIDN'T GET, THAT YOU DESERVED, I WOULD. YOU PROBABLY WOULDN'T HAVE LET SOME PEOPLE TAKE ADVANTAGE OF YOU. YOU PROBABLY WOULDN'T HAVE EXPERIMENTED WITH DRUGS AS MUCH AS YOU DID. BECAUSE DRUGS FILLED THE VOID WHERE LOVE WAS MISSING.

HAD YOU KNOWN YOUR WORTH MAYBE YOU WOULD HAVE BEEN A HAPPIER PERSON. TO FEEL WORTHY OF LOVE TOOK ME MANY YEARS AND I'M STILL SEARCHING. I FELT UNLESS I WAS PERFECT I WAS NOT WORTHY. I FELT ALL I WAS WAS SICK AND NOT IN MY POWER. BUT I WAS WORTHY. I HAVE BEEN LEARNING TO LIVE WITHOUT A MOTHER. BECAUSE FOR ME TO ATTAIN HER LOVE WOULD HAVE MEANT DEATH FOR ME. I'VE BEEN A YEARNER FOR LOVE, A FIGHTER FOR MY LIFE BUT ALSO QUITE SELF DESTRUCTIVE. I WOULD TELL MY YOUNGER SELF IF I COULD THAT YOU ARE WORTHY OF SO MUCH MORE LOVE… IF SHE WOULD ONLY ACCEPT IT. THINGS WOULD HAVE BEEN VERY DIFFERENT FOR HER.