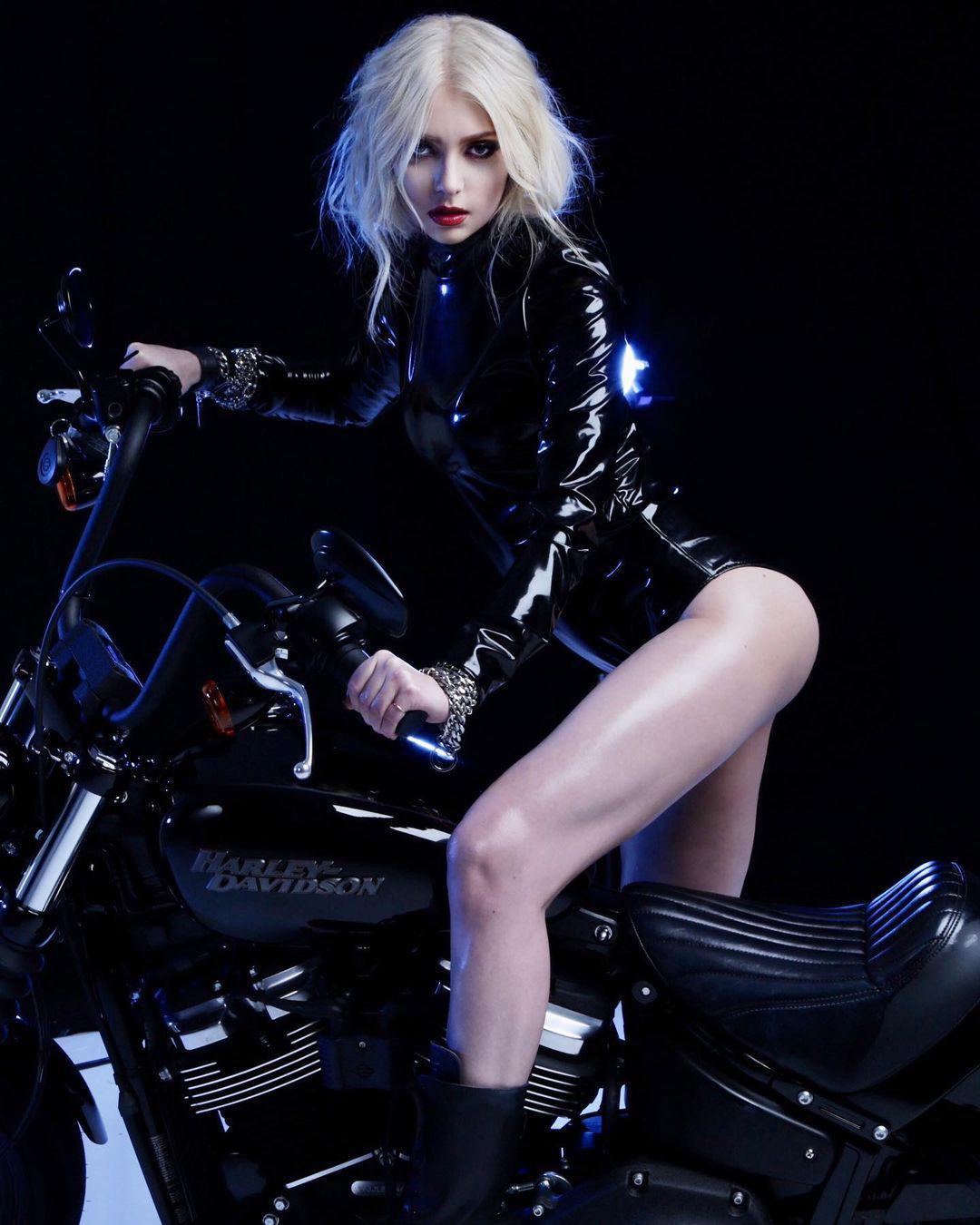 Taylor Momsen on Provocation, Musicianship, and Being a Female in Rock
Taylor Momsen has firmly commanded her own destiny. In 2012, the former Gossip Girl alum boldly cut ties with an exceedingly successful acting career to pursue music full time. Since then, she has become one of the leading women in contemporary rock by fronting and founding her own outfit, The Pretty Reckless. Their 2010 debut, Light Me Up, went on to receive critical acclaim, with The New York Times touting it as "salacious," "convincingly muscular," and "unnervingly rowdy." The Pretty Reckless has released two additional records since, Going to Hell and Who You Selling For, with the former hitting the top five on the Billboard charts. Their highly anticipated fourth studio album, Death by Rock and Roll, is slated for release in 2021. Our publisher and founder, Kristin Prim, recently caught up with Taylor to talk musicianship, provocation, and both the struggles and triumphs of being a female in rock.
KP: It takes tremendous strength and will to change careers, especially when you have found such success in a certain field already. What led you to want to pursue music rather than acting?
TM: I was put into acting very young, but on one of my first acting jobs, actually with The Grinch, I went into my first recording studio with producer James Horner. So, you could say that my love affair with music as a career started then. Writing and singing music is completely different than acting. Music, to me, is a full form of self expression and when that's your goal, there really is no comparison. As soon as I was old enough, I pursued music with everything I had.
KP: Was that ever a difficult decision for you to make, or did you find it more relieving than daunting?
TM: The truth makes that a complicated question. Leaving home at 16, leaving my job and my family to play music certainly had its hardships, but they call it playing music, not working music, so it was mostly just a great thing. It was very freeing; I always knew that it was music for me, so it wasn't revealing really, just a roller coaster ride that I'm still on.
KP: What advice would you offer to women who may want to take their lives in a more desired or impassioned direction, but fear losing the comfort of what they currently know?
TM: It's always a risk to change, honestly. If you're comfortable with your life and enjoy it, then there's nothing wrong with staying where you are and being happy. We all have dreams and desires that will never be fulfilled. For me, it really came down to wanting something badly enough that it eventually took over. Forcing something has never worked out for me, so I would say to be proud of your own life and let things happen naturally. At least that's how I do it.
KP: I read an interview of yours in which you mentioned that you enjoyed living in New York, citing the fact that you could "hide" away there and escape the "care" of mixing with celebrities. I'm a native New Yorker who much prefers the company in a dive bar to that of the ritzy galas and events I've attended throughout the years, so I very much feel the same way. Did you ever feel innately at odds with the entertainment world due to your differing values?
TM: I love show business, I love the pace and excitement of it. But from a distance, I've seen too many great artists trade what they know to be good for a chance at fortune and fame. It's the sad reality of working with a machine. Commerce and art seldom work together, so I try to stay out of it as much as possible. My bank account isn't happy about it, but my songs are.
"You have to take the good with bad in this world; you need the dark to offset the light. And the world is messy, people are messy. It's hard being human."
KP: I think that it's so incredible that you're able to be in The Pretty Reckless with a bunch of older guys who clearly regard you seriously as a musician and an artist. Have you ever felt slighted in any way outside of the band by being a female in rock?
TM: The older I get, the more I've noticed that there is definitely a stigma around females in rock. It's surprising actually, but at the end of the day, if it's good, it still rises to the top. But it is just one thing in a long list of reasons that people stereotype or have prejudice towards, so I try not to let it get to me too much. You have to take the good with bad in this world; you need the dark to offset the light. And the world is messy, people are messy. It's hard being human.
KP: I'm a guitarist myself and it has been quite discouraging to see such a departure from analog musicianship to the more electronically-driven methods of producing music today. How important do you feel it is to keep the craft of rock and roll alive?
TM: I just think that watching a musician play is the most exciting thing in the world. If you go to a party at someone's house and someone takes out a guitar and sings a song, people will feel it and cling to it. Taking out a laptop isn't… well, I'll just say that one doesn't compare to the other. If the world falls apart, I just want to be able to pluck a few strings and express myself and entertain people. Using technology and needing technology to make art are two different things. I'd say that needing a computer is out of touch with the source of where art comes from. Rock and roll, to me, is the connection with the artist themselves because I believe that there's no virtual soul.
KP: I appreciate and admire you so much for writing your own music, something that too many artists simply don't do. Who are some of your inspirations when it comes to songwriting?
TM: First of all, thank you so much for all the kind words. That's a difficult question to answer. Songwriting is a struggle and a lifestyle. I really just wait for the inspiration to hit, and in between that I put myself in as many emotional situations to allow that to happen. Every time I write a song I have no idea where it came from or if I'll ever be able to write one again. It's confusing, but the payoff is amazing.
KP: It's quite funny because I've taken up a few of these interviews myself already and so often when I'm researching, the word "provocateur" is brought up in the press to reference all of you already. Especially given the image that you maintained from such a young age, was provocation ever a goal of yours, or was it simply something that people attached to you given your appearance or thoughts?
TM: It's hard when most people see you through the scope of the internet. That tells about 3% of who I am and it usually catches the moments when I'm being "provocative," but it certainly doesn't show the whole me. I think my fans know that because of the music and they get the insight through the songs, but the people who don't know that certainly have a shallow, incorrect, internet-driven perception of me… not that I'm bitter lol.
"Dream big, work hard, and let it all happen naturally. Don't force it. You will always only be who you are, and finding out who that is is the journey that we are all on."
KP: You've often said that you love rock and roll for its unconditional endorsement of freedom, and the ability to be whoever it is that you want to be. This is a reason that I admire the lifestyle so much as well. What advice would you offer women who wish to find the strength to live as freely as they could dream?
TM: Dream big, work hard, and let it all happen naturally. Don't force it. You will always only be who you are, and finding out who that is is the journey that we are all on. And really, it's the fun part , it's life. The rest is all ego, if you ask me. Pursue your own enjoyment… that's all that I can say.