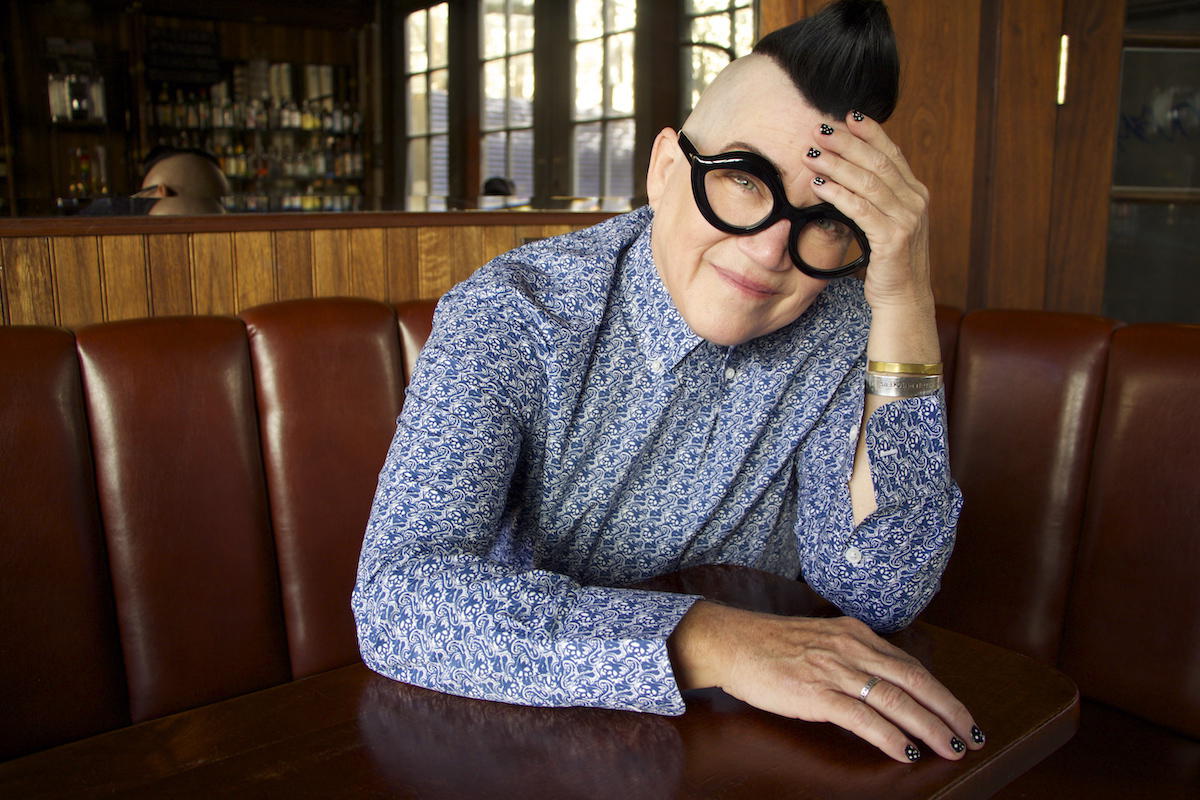 Lea DeLaria on Butch Representation, Orange Is the New Black, and Being the First to Ever Do It
In 1993, Lea DeLaria became the first openly gay comic to perform on American television with her groundbreaking performance on The Arsenio Hall Show. That landmark appearance, in which she mentioned the words "dyke," "fag," or "queer" 47 times in 9½ minutes, remains one of the most revolutionary moments in modern television. Now 27 years later with a bevy of iconic roles behind her, from Orange Is the New Black to Broadway, Lea DeLaria is still changing perceptions. Kristin Prim and Alexandra Julienne spoke to the enduring icon about being butch, playing Big Boo, and loving the Yankees.
AJ: Well, one thing I know that Kristin and I were both watching before talking to you was your Arsenio Hall performance in 1993.
LD: Wow, you went way back.
AJ: Believe it or not, I come back to that performance all the time, and not just because it's the first instance that an openly gay comic was on late-night – I also revisit it due to the kinds of jokes that you tell, which are still quite rare today, these sort of specifically lesbian jokes. You still don't, believe it or not, come across those as often as one would think in 2020. And I know from your backstory that you were once referred to as "that fucking dyke," right?
LD: That was my stage name when I first started performing, yeah.
AJ: Can I ask how you chose that as a stage name?
LD: Well it was very simple, it was actually pretty easy, because pretty much everywhere I went, somebody would scream, "You fucking dyke." So back in 1982, as I was walking down a parking lot at a grocery store, eventually some bitch would roll down the window of the car and scream, "You fucking dyke." So finally I just decided, "You know what? Let's just address that right now." I said, "I'm the fucking dyke."
AJ: It's definitely very provocative. Were you aware when you were on Arsenio Hall of just how momentous that performance was? Were you cognizant of how many feathers were going to be ruffled by being such an openly butch lesbian on TV?
LD: Yes to both of those. And just FYI, with that performance, actually, I was the first openly gay comic to perform on television in America, period. And I mean not just late-night. There was no one before me. That was it. So I was very nervous about it, mostly because I didn't want to bomb. I wanted to do my people proud, if you know what I mean. I wanted to get out there and I wanted to make people laugh. I wanted to stay true to the politics of the time, and that's very propositioned in a live television audience. Do you know what I mean?
AJ: Yeah, absolutely.
LD: I wasn't going to be in front of a packed house of queers who had paid money to see me.
AJ: Right.
LD: Especially because people had no idea who I was and they only wanted to see me because Arsenio said, "You should see her, she's great."
AJ: It's pretty incredible to think about. Did you receive a lot of positive feedback from gay audiences, or was it mostly feedback from straight audiences at that point?
LD: I received mixed reviews from gay audiences, because I'm a very radical queer and I still am. That rubs a lot of middle class, mainstream, assimilated gays the wrong way.
AJ: That sounds about right for the time.
LD: But, in the same way, they rubbed me. Do you want to ask me how I felt about them? Well, don't. But the reality is, I didn't just open the closet door by being the first lesbian out there in the way that I went out. I fucking kicked that door open… I had a blowtorch. I took that door down with a bazooka. I believe it was The Advocate that counted how many times I used the word "dyke," or "fag," or "queer," in the 9½ minutes that I was on –– and it was 47 times. I was on a mission, if you know what I mean.
AJ: Absolutely, yeah. Was that something that was natural to you? You didn't have to work up the nerve to be that way, you're just sort of openly bombastic on TV? Or did you have to train yourself to be that way?
LD: I've always been openly bombastic on stage or on television. And what I've had to do over the course of time is to pick and choose when and where. I could be more out on The Arsenio Hall Show and the more current late-night, like when you see on Conan O'Brien… I'm just crazy on Conan O'Brien, and stuff just flies out of my mouth. But, when I'm on The View, of course, it's a little different. I'm still me and I'm still outrageous, and I still put forth what my ideas are, but I have to be a little more careful language-wise. And that's just censorship in television for you.
AJ: Right. That's just some street smarts, if anything, right?
LD: Yeah.
AJ: Did you have any specifically butch representation on TV or in entertainment when you were young that inspired you to be this way?
LD: Butch representation on TV? Yes, Julia Child, when I was growing up.
KP: [Laughs]. That's amazing.
AJ: I love that.
LD: Yeah, Julia Child. There was no butch representation on TV. I would say, the closest thing… I guess you could say that we had Prisoner: Cell Block H.
AJ: Right.
LD: And Franky. But listen, it was ahead of its time, but it was definitely that same stereotypical portrayal of a butch as dumb, stupid, someone who beats their girlfriends, drinks too much, fat, a drunk driver, that whole thing. So there wasn't really a lot of butch representation. Now, I did have Del Martin, who her and her wife, Phyllis Lyon, started the Daughters of Bilitis. So when I was young, I moved to San Francisco. Before I started performing, I was involved with the dyke political scene there, of which Del Martin was a huge factor, so that was representation for me. That's what taught me that it was okay to be butch.
AJ: Absolutely. And just even the event of being butch on late-night… well, it was in a phase of late-night television and maybe stand-up comedy as well, where that was part and parcel to be political… to be provocative… to be transgressive. I would say, in recent years, that late-night but also stand-up comedy has maybe lost a little bit of its bite. Do you think that's true?
LD: Absolutely. None of the comics… I mean, I recently did an event with Jay Leno where I called him a pussy because he said that he wouldn't go to universities anymore because of political correctness. And, my response to that is, I play every university that I can because it's my job to change their minds about what they think about certain things and the ideas that have become ingrained within them that possibly need to be changed. That's what comedy's always been for me… a way to change the world and of course, get laid.
AJ: [Laughs]. Those are the main two.
LD: But what I found is that comics nowadays are so afraid of the PC movement that they won't go out and speak their minds and still be able to change the ideas that they want to change. Do you know what I'm saying? To me, they're pussies because I've been a dyke comic since the 1980s. Have you met a lesbian? Do you know how politically correct they are? Do you know what I've been dealing with my whole life?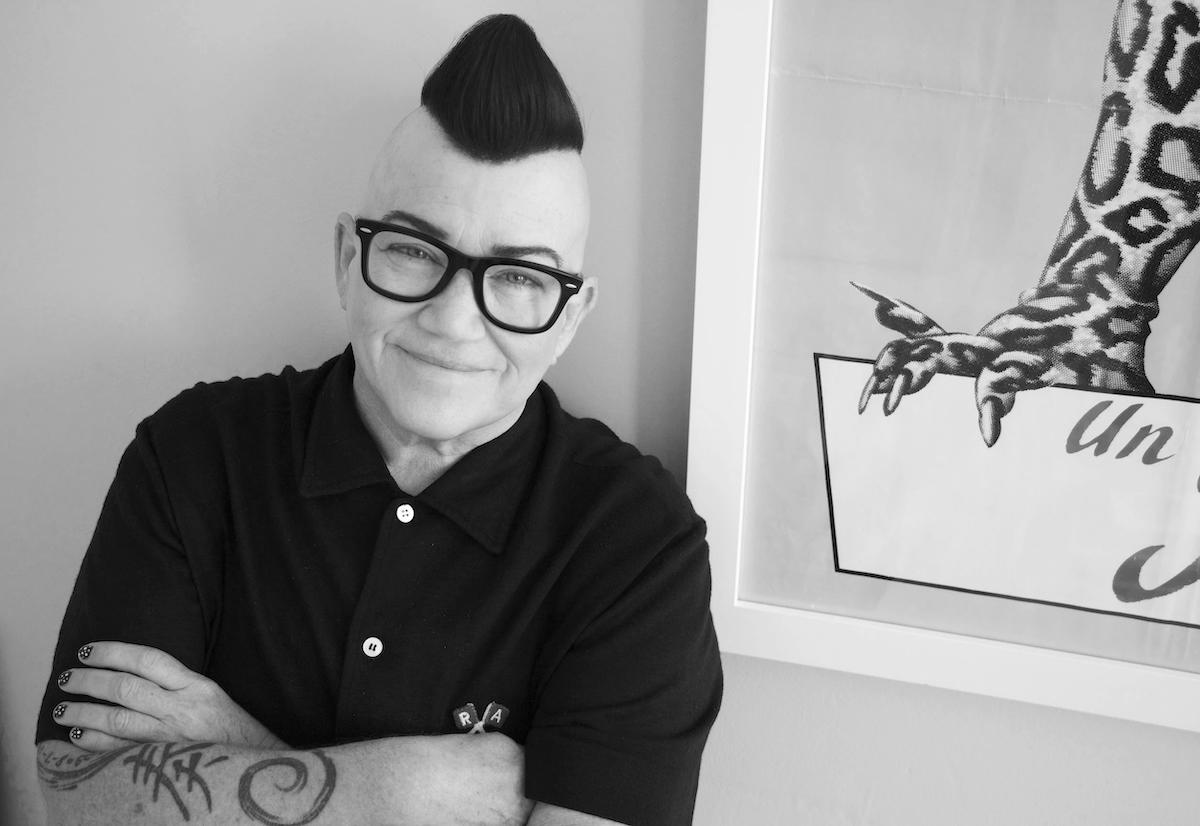 Photo by Tina Turnbow
"I think that we need to change the way we view ourselves, and part of that to me is the alphabet soup – the LGBTQ. That's why I don't want to use that term, because I think that it points to our differences rather than our shared oppressions. If we stopped all the damn disenfranchising of our own community, we would have had our rights 20 years ago."
AJ: That's true. It's interesting how I think you're absolutely right, that lesbians in particular – as a community and particularly lesbian personalities in comedy – can not just ruffle feathers, but bring up difficult juxtapositions between expectations of women and also expectations of gay people. Why are gay people funny? What makes us funny? Do straight people understand our comedy? And it sometimes feels like you're on the outside looking in, even to this day. But there are people, like Hannah Gadsby with Nanette, who have really broken through to wider audiences, that can really inspire people. Are there any lesbian or queer comedians working now who you really admire, who you think are pushing the medium forward?
LD: Yeah. Well, Hannah, of course. I want to say one thing about something that you said about political correctness and lesbians. I believe that I might be the only person this ever happened to, but on The Arsenio Hall Show, I think you remember, I said a thing that I liked the Clinton administration and everybody was still mad at the Clinton Administration because of "Don't Ask, Don't Tell." I said that I liked them because finally in this country we had a First Lady you could fuck.
AJ: Yes.
LD: So as a community, the craziness, all of these lesbians were really pissed at me because they thought that I was sexist. And I can respond to that all day long, but just to go further with the story… right after that, I did a show in Northampton, Massachusetts, and I had the Westboro Baptist Church protesting me on one side, and on the other side, I had a protesting group of lesbians.
KP: [Laughs]. That's unbelievable.
AJ: There's definitely something to the lesbian that makes everybody, even other lesbians mad.
LD: If you find that you're a thorn in the side of both the right and the left, then you might be saying something correct. You know what I mean?
AJ: Definitely.
LD: There's this new comic, Sam Jay, on Netflix. Her new special literally just came out. She's great, she's amazing.
AJ: I'll have to try that out, I haven't watched it.
LD: Oh yeah, check for Sam Jay. Anyhow, she's great. I'm trying to think of new, younger comics… I don't know as much about them, you know what I mean? I've always loved Rosie and I've always loved Sandra Bernhard. Look, these guys didn't come out as soon as I did, but they faced shit when they came out and they have been toeing a very hard political line ever since. So, you know, I am rooting for them. There's people that have been out there doing it for a very long time, and I think that they are inspiring younger people to come along.
My friend Maggie Cassella has a comedy festival in Toronto, We're Funny That Way! And she always has a group of great, young, new comics. I think they're coming out and I think they're doing their job. I think that what they're finding, and what I've always found, is that the comedy clubs wants to relegate you to a gay comedy night, rather than letting you work any night of the week. And we still have that same problem, especially as women. "I can't have you on the bill because there's already a woman on the bill," and that still goes on. So, for me, I would say to them, "Get away from them. Do your own thing and perform for your own community, and break through in that way." It's very hard for these young comics to break through. Am I making sense?
AJ: Right. Yes, I think that's very sound advice. And I think what you say about how things have changed, but things have sort of stayed the same is definitely also the case. Something that sort of strikes me in that vein is your character from Orange Is the New Black. You talked a little bit a couple of minutes ago about the cliches of butch characters. Particularly, I'm a big old movie buff…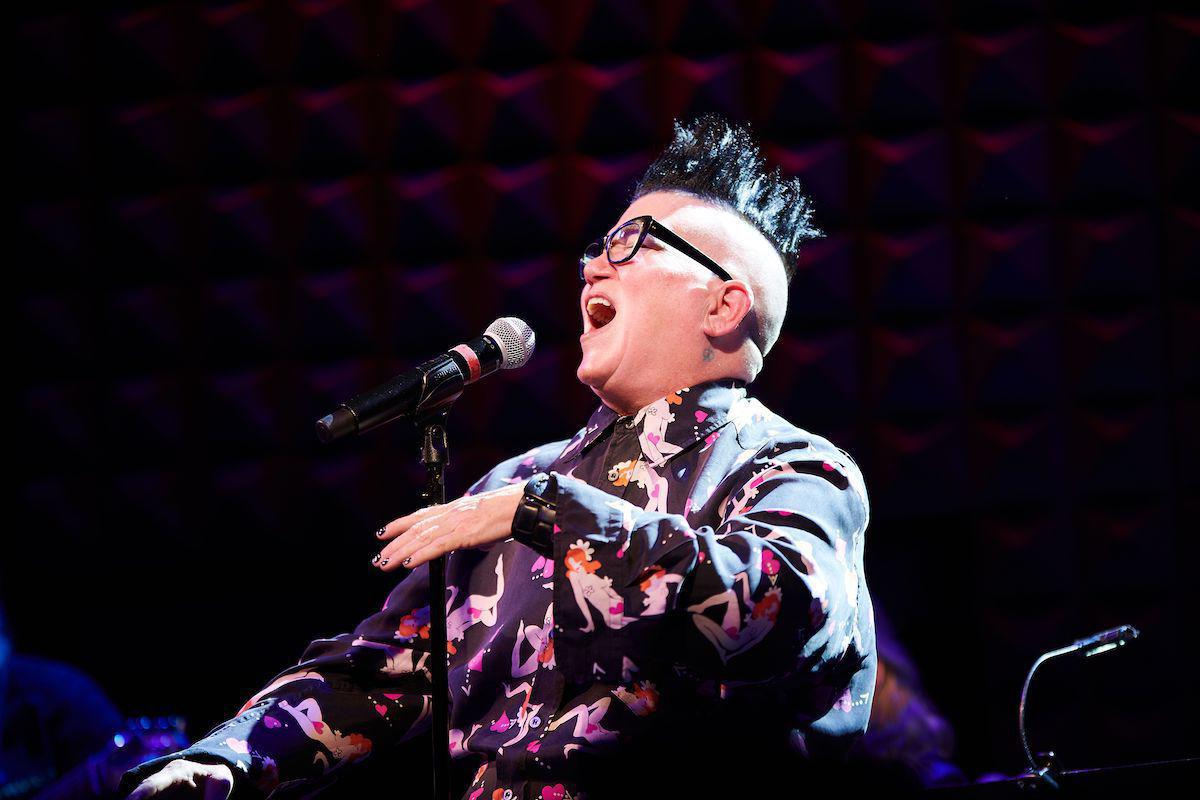 Photography: Andrew Foord
"The world is opening up for us. Don't let anybody tell you not to be who you are. Believe in yourself, stick to it, no fucks given, and you're going to make it."
LD: Me too.
AJ: I'm always thinking about characters like the butches, the sort-of lesbians that were kind of predatory in those old Hollywood movies, and particularly in movies like Caged, where the women were murderous, crazy lesbians. What strikes me about the character that you played on Orange Is the New Black, Big Boo, is that at first glance, she kind of was in that mode, but then the show expresses so much sympathy and empathy. It really humanizes her. There's particularly an episode where we learn Boo's backstory and we see her in her childhood. I've always wondered since watching that, did you have any input on that story, and did it resonate with you personally?
LD: Well, okay. First of all, let me just say that my favorite old, butch movie is Requiem for a Heavyweight. Everything that you hate about butch representation in film and television before now is all wrapped up in that.
But not only did I not have any input in Orange… well, there was one thing that I had input on… it was about the dildo. But other than that, when I read the script, I actually called Lauren Morelli, who wrote it, and I started to cry. It was like she read my diary because butches, we have a shared experience and every part of that shared experience was in that episode. And I was like, "Where did you do your research?" She didn't talk to me at all, you know what I mean? So I was thinking that she obviously had researched. She obviously had spoken to another butch. She didn't speak to me until it was time to do it. And then there was this thing that I gave input on and – one of them was the dildo – which they wanted me to wear over my underwear. I was like, "No."
AJ: Naturally, that wouldn't make any sense. It was actually what I was going to ask you next, because Orange Is the New Black is probably the most lesbian show since The L Word. It may be even as more lesbian than The L Word in a lot of ways. And so, I was just going to ask you, what was it like to be on a set with that many women who were sort of like-minded? Was there any kind of queer camaraderie on the set that you miss now?
LD: For lots of reasons I think that Orange is more lesbian than The L Word. We had a more lesbian writers' room and, also, we had actual lesbians playing the lesbians, although there are some girls who are not lesbians that played lesbians on the show, like Uzo [Aduba]. As for what it was like for me, forget about it… it was like I'd died and gone to lesbi-dyke heaven. It was unbelievable. And it wasn't just the cast, it was everybody. There were so many women in power on that set, and I never had experienced that on any set prior. And I've been doing this… well you mentioned The Arsenio Hall Show, so that's when I joined SAG and that's how long I've been on American television, since 1993. And I've never experienced anything like that. I still haven't since.
I'm hoping that it's not going to be a blip in the screen. I'm hoping that we're going to see a lot more women directing and in the writers' rooms and show running and on set and becoming camera operators, and all of that. I'm hoping that we can continue forward in that way. But yeah, it was crazy fun.
AJ: I can only imagine.
LD: They had to separate me and Natasha [Lyonne] a lot because we were disruptive.
AJ: I can only imagine how much fun that must've been.
LD: It was so disruptive when we got together.
AJ: I feel like there's a similar experience when you're in a lesbian bar, which are becoming much more fewer and further between here. I actually have to say that you and I met each other very briefly at Cubbyhole a couple of years ago, which is a place that I'm missing a lot right now.
LD: Oh my God. Was I sober?
AJ: I think that you were sober for a minute there. Maybe not the whole time, but it was very, very brief. We're slowly losing the last of these purportedly lesbian brick and mortar establishments… well, in this country, at least. Do you think that when all of this pandemic stuff is over there will be revitalization of the bar scene? Do you have a fondest memory of the bar scene or something that you'd like to see come back?
LD: Well, I'm terrified for the dyke bars. I'll be honest, I'm not worried about the gay boy scene because there's no reason to be worried about the gay boy scene… they'll always have their scene. But I'm terrified for the dyke bars and the places where we can come together and be a community. Even now, if you look at Cubbyhole, it's very mixed. The only way that they've been able to keep it open is to hire male bartenders and keep men coming in as the economy worsens. As women have less and less money, they have to stay home more and more.
They move out to the suburbs where it's cheaper to live. There are reasons why these things are happening. There are reasons why these dyke bars are disappearing, and mostly, it's because of financial reasons, I think. I live in Bushwick… this is a pretty dykey neighborhood. If I walk half a block down the street, I'm going to see five dykes, right? But there isn't a dyke bar in Bushwick because we all go to Three Diamond Door. Gay men go to bars for sex. Period.
AJ: Period, yeah. That's absolutely true. And they would admit to it.
LD: Lesbians don't go to bars for sex. Dykes go to bars for company, camaraderie, and community.
AJ: Absolutely, yeah. Luckily, it seems like the fund for Cubbyhole, at least specifically, is going well on GoFundMe. So I guess I'll shout that out right here in the middle of this interview, because hopefully they can keep the doors open. I want to be back there. I have a love/hate relationship with lesbian bars, but I want to keep having that relationship. I don't want to lose them. I know that you yourself have opened a kind of jazz club or bar in Provincetown, right?
LD: Yes, it's a nightclub, though it's currently a restaurant because of the pandemic. I was just there looking at the stage with this beautiful grand piano and absolutely nothing happening. Joe's Pub but in Provincetown is the way that I kind of like to describe it, only in the private sector at the same time.
AJ: Right.
LD: So I opened that up and we were actually going to do a dyke party on Tuesday night.
AJ: Aw, I would have tried to come.
LD: Well, then this happened. We got a year under our belt now. We said, "Okay, we're closed on Tuesdays. Let's open on Tuesday to do a dyke dance party." It was the only time that we were going to do a dance party, you know, because this is primarily a performance space. First of all, my kitchen is two lesbians; the vast majority of my staff are dykes. I'm all about helping the community.
AJ: Absolutely, yeah. And I do believe that when this is all over, we will have something new to look forward to. And it might be the only thing that will get lesbians to go out. So that's my hope. I'm going to be optimistic about it.
LD: You know that dykes don't have the money to spend, too. Here's the thing… dykes are frugal. They want to pay their rent. They want to buy groceries. They want to do that. A gay man will spend his rent on a shirt if it gets him off. That's why gay bars are always going to do well. I would say that the gay boy mentality is "tomorrow is another day."
AJ: Right. There's this sort of twisted optimism to that sort of habit.
LD: Exactly, and dykes are completely the opposite. I think it's because of the vast, different experience of men and women in this society to this day.
AJ: Yeah. I also think that lesbians in particular – in spite of maybe some of the stereotypes that have been lobbed at us – have been much more open in terms of the other groups within the LGBTQ+ community. I think that we've seen the definition of lesbian spaces sort of adjust and change over time to include trans-feminine people, transgender women, and just be a little bit more opening. Do you in any –
LD: Transmen, don't forget transmen.
AJ: Yes, and transmen, who certainly have maybe the closest relationship with us as a sort of parallel community.
LD: Right.
AJ: Do you feel like there is anything in the discourse, as we might call it, from lesbians that sort of annoys you right now?
LD: When I hear lesbians say anything negative about trans people or anyone, it just infuriates me. I really hate it within my own community.
AJ: Yeah, same.
LD: I just… I don't understand it. I'll never understand it. I'm a butch dyke. I get it from lesbians all the time. "Why do you have to be butch?" I have been asked that question so much throughout the course of my life. "Why do you have to wear a suit? Why can't you wear a nice girl suit? Why are you butch?" If you're going to pay me my Broadway quote, I'll put on a wig and heels and put my legs in the air. I also need to be able to be me and be butch. And the reason for that mostly is because we have to face that stuff within our own community. So they're fed up with it. They bought land out somewhere and they're living their lives and raising alpacas.
AJ: Sounds like a good plan to me, yeah.
LD: I mean, I think that we need to change the way we view ourselves, and part of that to me is the alphabet soup – the LGBTQ. That's why I don't want to use that term, because I think that it points to our differences rather than our shared oppressions. If we stopped all the damn disenfranchising of our own community, we would have had our rights 20 years ago. So, it's an issue to me… a big issue.
KP: Right? That was a question that I actually had for you as well. The lead up to my question was what you just stated. It was just some pull quotes that you had over the past few years regarding that, but you said that it leads to "disenfranchising" among the community, which I totally agree with. So what do you think are some ways that we can regroup as a community, especially in these more trying political times? Do you think that we're too far gone for that?
LD: I think that we can do this. I think the adjustment is very simple. I am not your enemy. I am speaking to anybody who's ever gotten pissed off by something I said… I am not your enemy. I am here with you on the front line of this fight. If I say something that upsets you, rather than immediately jumping and getting the hair standing up on the back of your neck and screaming at me, like I'm a part of the Trump administration, how about you say, "I've got a problem with what you just said, and this and that?" And then we can have a conversation and get past it and move onto something that's more important. But if we just reach out to each other from a place of love rather than disgust, I think that we could change everything for our community.
KP: Absolutely. So I'm a Brooklyn Italian girl and I grew up very Catholic as well.
LD: We're both from Brooklyn!
KP: Yes, yes, I'm a Brooklyn girl. Actually, the first time I went to a non-parochial school in my entire life was when I attended college; I went to Parsons. I know for me, in the majority of my family, queerness is not something that's necessarily negotiable to an extent. Roman Catholic Italians tend to go very much by the book. Did your upbringing, culture, or religion play a role at all in your self-acceptance or your coming out?
LD: It stifled my coming out until… well, I think I knew who I was at a very young age. I got a fake ID and snuck into the local dyke bar when I was 17 years old. So when I say that it's stifled my coming out, maybe I could have come out when I was 12. Even though I was doing it, it was very secretive. You know what I mean? I was a professional dyke, exploring the world, telling everybody that I was gay except my parents. Finally when I was like 30, I came out to them.
KP: Well I think a big part of it, especially for Roman Catholic Italians, is denial. Maybe they have that inkling or they know, but they just kind of push it aside and you just don't talk about it.
LD: Oh, exactly. Well, that's the whole basis of Catholicism – if you ignore it, it will go away.
KP: Right.
LD: Ignore that, it'll go away. So when I came out to my family we had the whole thing and then a month later they forgot about it and we had to do the whole thing over again.
KP: Yes, exactly.
LD: Yeah. So it wasn't… it wasn't simple. It wasn't easy. I'll tell you the one thing though… the Catholic upbringing helped me with stand-up comedy. Definitely. The nuns made me funny.
KP: [Laughs]. Yes, exactly. So that is one positive aspect. I also saw on Twitter last night that you are a Yankee fan.
LD: Dude, let's go Yankees!
KP: I mean, I'm a Brooklyn Italian, so of course I'm a Yankee fan, but I truly have been a lifelong Yankee fan. So I just have to ask a question out of personal curiosity… who's your favorite player? Or who's doing it for you this season so far?
LD: Well, DJ LeMahieu is killing it right now.
KP: Oh my god, yes.
LD: DJ LeMahieu is killing it. He's on top of every fucking record, as is Judge. He's just got another season going like crazy. But I'm also a big Gleyber fan. He's great.
KP: He is, but he has to come out of this slump. I'm waiting for him to break out again.
LD: He's had a little slump, but he did get a nice hit. He's gotten into the last two games more. I think he's starting to get it back. My favorite all time Yankee is very hard because, I mean, Jeter is the obvious answer.
KP: Right.
LD: But I have such a soft spot in my heart for Paul O'Neill and I've never stopped loving him.
KP: I love Paul O'Neill. Actually, my favorite thing is watching the Yankee games on YES, and hearing him, Michael Kay, and David Cone.
LD: It's always so happy when Paul and Cone are up there, it's always great, you know. But also Mariano Rivera. How can you not love Mariano Rivera? I also love Mickey Mantle…
KP: I think that Clint Frazier is going to have a really breakout year too. I'm so happy they finally took him back up after being DFA'd. When he went up to plate for the first time and he hit that homer, I was thrilled. And then I think he went for three hits that night. It was amazing, so I'm excited for him too.
LD: Are you going to watch the game tonight? Against the Sox?
KP: Yeah, I am. Gerrit Cole is pitching today I think, so I'm excited to see him again.
LD: I'm going over with two girls from Orange, Vicci Martinez and Emily Tarver, to watch the Yankees and drink.
KP: That's so nice. Nobody I know watches sports and I'm a massive sports fan. I used to be a huge athlete. So anytime I find out someone else watches sports, I always have to go into it a little bit.
LD: Yankees, Knicks, Rangers, all of it.
KP: Absolutely. And let's hope for a better Knicks season this year.
AJ: Yeah. Well, on that note…
KP: [Laughs]. I don't know if Alexandra has any input.
AJ: I am a lesbian who actually doesn't know a thing about sports, so I will sort of wrap us up. [Laughs]. If you could say maybe a few words of advice for any young butches who might be actors, performers, or comedians, what would it be?
LD: There's only a couple of things that are very important, and some of it is about what I spoke of before. If you really want to do this, and you know that you really want to do this, you need to first and foremost believe in yourself. You have to believe that you can do it. You have to know that you're good. You're going to hear "no" a lot. You just have to know in your heart that it's going to happen. And then the second piece of advice is to stick to it. Do not give up, do not give up. You'll never make it if you give up, so that's part of it. And three, just be yourself. Don't let them tell you not to be butch. Your agent is going to go, "Maybe just grow your hair long." But you know what? Here's the good news: there are a lot more butch roles that are opening up. I mean, a lot of shows actually have butch leads. If you look at Work in Progress…
KP: Which is absolutely phenomenal, by the way.
LD: She [Abby McEnany] is over 40!
AJ: It's a great show, yeah.
LD: Yeah, yeah, exactly. And there are many shows out there that have this going on. So I mean, the world is opening up for us. Don't let anybody tell you not to be who you are. Believe in yourself, stick to it, no fucks given, and you're going to make it.
---
Cover Photo: Tina Turnbow